Recognizing the special needs of small acreage farms, Flathead Valley natives Lee Buller and Tryg Koch started Heritage Custom Farming in 2005. Both men grew up on farms in the Creston area and have a lifetime of experience in successful farming, ranching, and wildlife habitat, and will work with you to find the perfect solution to your needs.
Tryg received his degree in Agriculture and Diesel Mechanics from MSUN in Montana. He worked on a dairy farm for six years where he was involved in farming and field maintenance. Tryg and his wife live on ten acres where they raise and train bird dogs.
For more than 25 years, Lee has been farming and haying from Whitefish to Bigfork. After working on a large cattle ranch/farm for 15 years, he managed a 400-plus acre farm in West Valley for seven years. Lee lives in Creston with his family on their farm, where they have raised cows, horses, and border collies.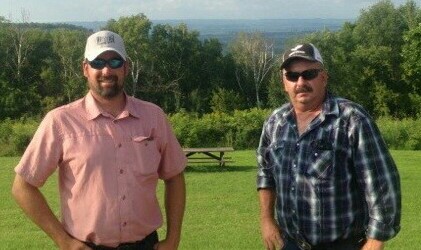 Earl Colbry, Eastern Montana Sales
Earl was born and raised in Chester, Montana. He has farmed and ranched for over 50 years in cattle and small grains. Earl has also sold livestock feed, fertilizer, chemicals and equipment for over 40 years. He now resides on the Bitterroot Lake in Marion, Montana. He brings a lot of knowledge and expertise to the table and is a valuable asset to Creston Seed Sales.